Reuniting with children abducted to Japan
September 24 @ 9:00 AM

-

11:00 AM

EDT

$25.00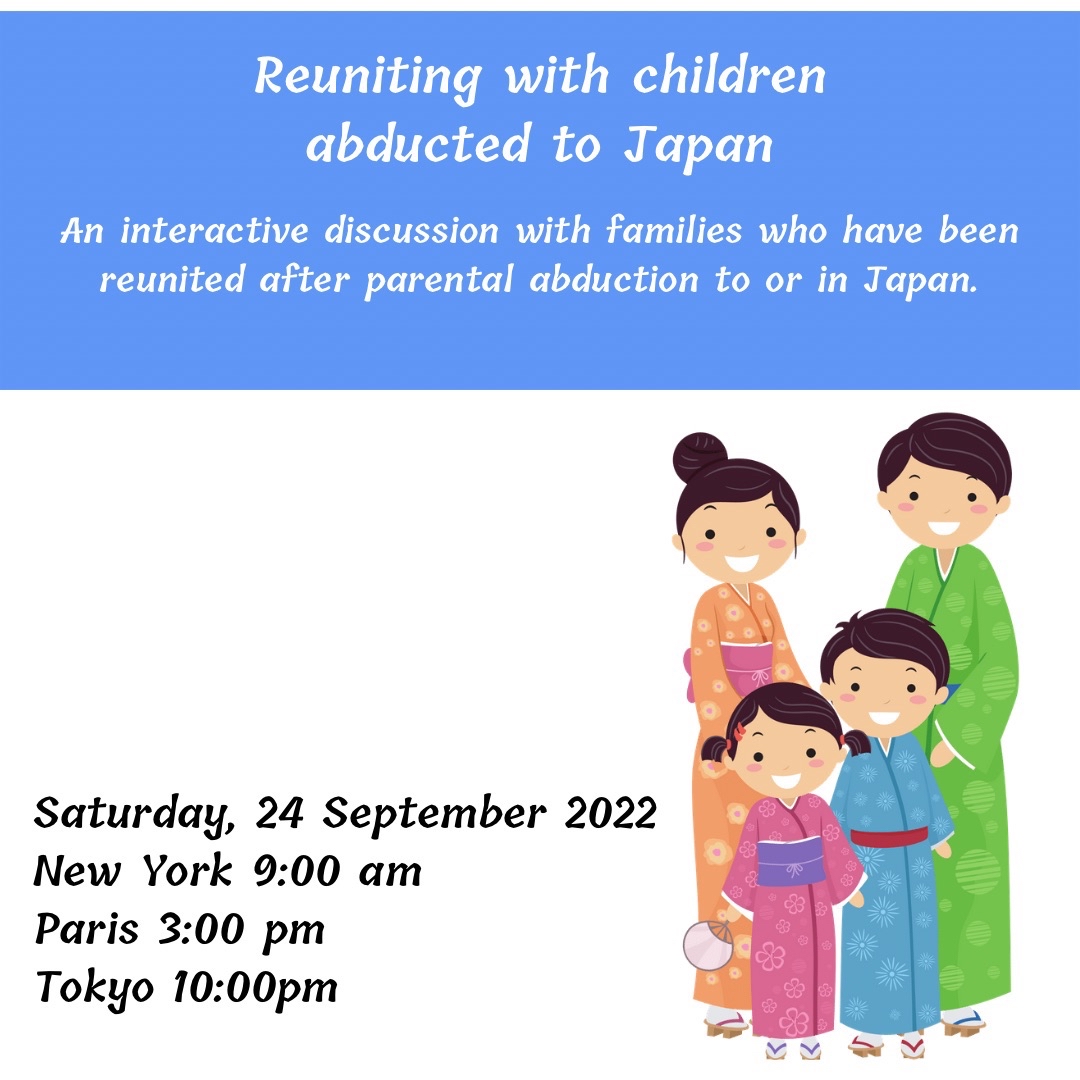 This online event will be an interactive discussion with families who have been reunited after parental abduction to or in Japan. The panel will be made up of parents who have reunited with their children abducted to or in Japan as well as an international lawyer who has supported families with their children abducted to or in Japan. These families have reunited using various means including: local courts, Japanese courts as well as technology and will discuss this during the event. Participants will have chance to ask questions to the panel.
Panel of guests include:
Jessica Finelle: partner at Zimeray & Finelle law firm, headquartered in Paris with offices in London and Geneva. Jessica specializes in complex criminal cases in France and abroad, representing both defendants and victims in the areas of cross-border crime, including victims of parental abduction to Japan. She has led a complaint to the UN against Japan on behalf of parents with children abducted to Japan.
An American father who successfully used technology to reunite with his daughter three years after she was abducted in Japan.
John Paul Simpson: a British father who has been living in Japan for 20 years. 7 years after his oldest daughter was abducted in Japan, she found him online and reached out. Over the years, he has managed a relationship with her while also balancing the need to not get access blocked by his ex again. When his daughter travelled to visit him after many years in 2021, Find My Parent was able to connect her with a French-Japanese girl who had been reunited over a decade after her abduction to provide moral support and advice. John currently has two other daughters abducted in Japan.
Masood Jaan: the father of a teenage daughter who was unlawfully abducted from Singapore to Japan in 2020. 1.5 years after the abduction, he was able to reunite with his daughter. Masood recovered his child using a novel approach. Instead of using the Hague Treaty on the Civil Aspects of child Abduction, he obtained a court order for the return of his daughter from the Singapore Family Justice Courts. Masood then successfully applied to the Yokohama Family Court for the recognition of this order. After successfully obtaining an execution judgement from the Japanese courts, Masood found and recovered his daughter in 2021. Today, he lives with his daughter (and two golden retrievers) in Singapore and remains a strong advocate for children abducted by a parent, especially to Japan. He recently completed a Juris Doctor degree and is currently studying for the Singapore bar exam.
Rachel Endo: mother of two daughters abducted from the United States to Japan by their father in 2019 after a Maryland judge ordered that the girls be allowed to go on vacation to Japan with their father despite the country's failure to protect children from abduction. Her ex-husband refused to return the girls home. Rachel was luckily able to return her girls home through Habeus Corpus in the Tokyo High Court. Since then, she been a fierce advocate against international parental abduction and most importantly supported her daughters as they navigate their lives post-abduction.
The event will be moderated by James Cook. His four children were abducted in July 2014 under the guise of a vacation to Japan. He has battled in courts in both Japan and the USA, testified before the U.S. Congress three times on the subject, and the story of his children's abductions have been written about in USA Today, The Washington Post, Japan Times, and AFN news service. To date, he has no contact with any of his children despite multiple court orders in the USA for return and judgments in Japan. His two oldest sons go to college in Boston and he welcomes anyone that can help reconnect him to them. James will bring this perspective to moderation in an effort to help other LBPs in the audience.
We would like to remind everyone that our goal here is to share knowledge and show that you are not alone in this. With that said, if you need specific legal advice, please get your own independent advice from a qualified legal practitioner.
This is a closed event held via zoom and all participants will be required to (1) keep their cameras turned on throughout the event and (2) fill out a short questionnaire at registration. This is done to protect families who will be discussing sensitive information.
Registration for this event costs $25 and all funds collected will go towards spreading FMP's technology to reunite more children.
The event will be held via Zoom and last for duration of 2 hours.
Saturday, 24 September 2022
New York 9:00 am
Paris 3:00 pm
Tokyo 10:00pm
Interested in hearing from families how have reunited in countries other than Japan? Stay tuned for future FMP events on reunification around the world, including our October event on the Middle East.
Related Events